Teachable Review & Experiences 2023 [Bad Online Training Tool?]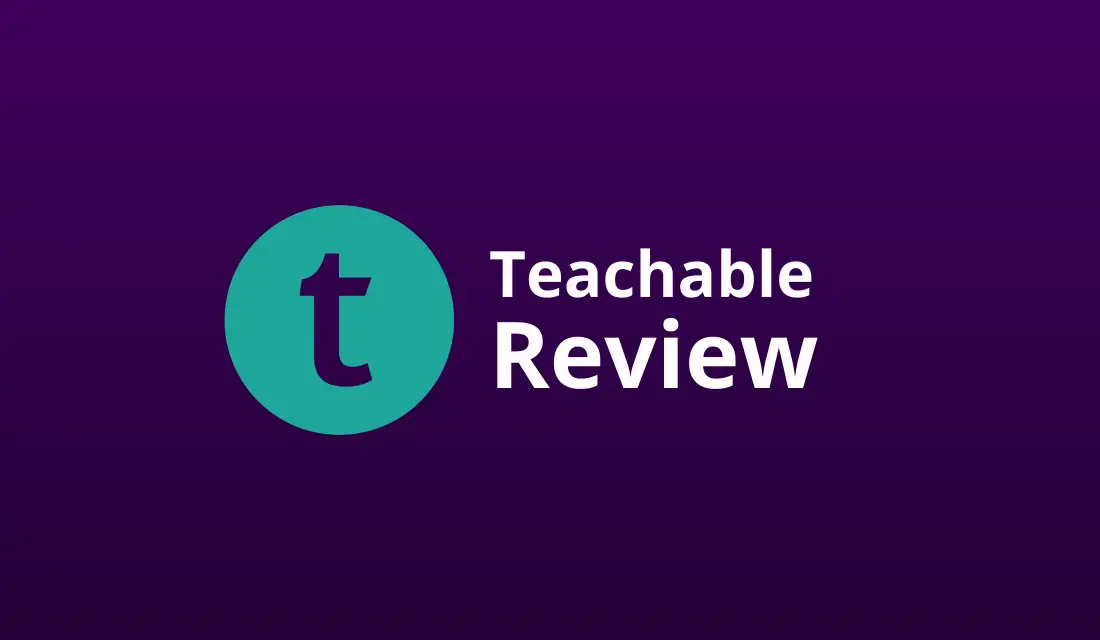 Teachable is known as the go-to software for creating your own online training courses, but do we think so as well? Is Teachable a good program for people who want to make an online training? Read on for our review …
What is Teachable? Online course platform to build your own online academy
Teachable Inc is an online learning platform that allows you to create your own online video course. This software is for people who have no technical knowledge and / or programming skills. Teachable contains all kinds of simple and user-friendly functionalities to make it a complete online school .
We have used Teachable for our online training courses. You can also experience this software yourself by creating an always-free account here.
Why your own online training?

Earning with your hobby or no longer having to stand in front of groups 100 times
Why should you create your own online training? Because it is increasingly accepted and because an online training simply saves a lot of time for coaches and trainers.
It is also a lucrative business. Having your own online academy is not only a way to turn your hobby into your job or to automate part of your work so that you don't have to spend more and more your precious time in front of the classroom … it also delivers. some serious money.
What did we like about Teachable?
You can create a free account at Teachable with which you can create your training immediately – and you can

always

continue to use

that account for

free

.

The prices of the paid accounts are much more

lenient

than Teachable's most famous competitor: Kajabi.

The prices are up to 4 times cheaper, while you can do exactly the same with them.

Teachable has

impressive features

that are simply easy to find and customize.

This way you can design your own online learning environment in your own corporate identity with your own colors, logo and style.

Teachable does

not

impose

any slight limits

, for example on the number of courses you can take or the number of students you can admit.

Teachable is a great online

dropbox

for classes, students and teachers.

You can post and share all kinds of files with each other.

Smooth

drag and drop builder

to create your courses and pages.

You don't

have

to create

sales pages

with separate tools

.

That is simply possible with Teachable.

The

support

responds immediately or within a few hours.

That makes good progress.

Active community.

Because Teachable is one of the

market leaders

, you can make use of a large following of Teachable users.

Additional

marketing tools

such as email marketing, coupons and sales pages.

You can also let your students work for you by giving them a monetary reward when they enroll new students.

This is the affiliate marketing function.
Cons?

Teachable is not Udemy …
The only downside to Teachable we think is that it is not Udemy. At Udemy, your courses will be placed in a large marketplace where many interested parties can see and buy your course.
When you start using Teachable, you are fully responsible for the sale of your courses. So Udemy does that sale for you. Anyway, you're also only left with a small portion of the course fees your Udemy students pay.
Use Teachable for free
At Teachable you can create a free account with which you can directly create your own online course. You can always use this account for free. Make a plan for your online training here.
Teachable prices (annual = extra discount)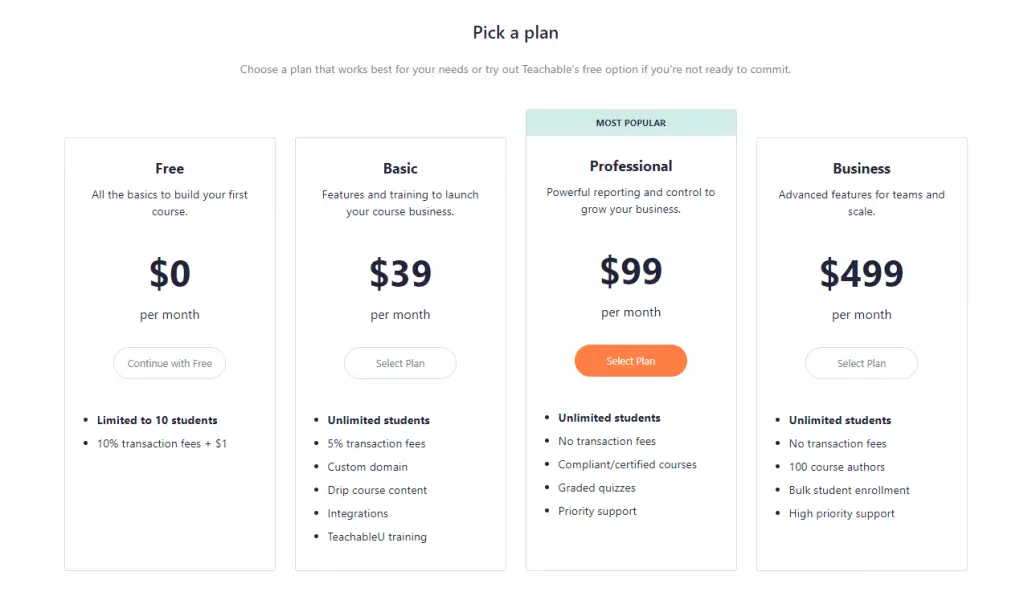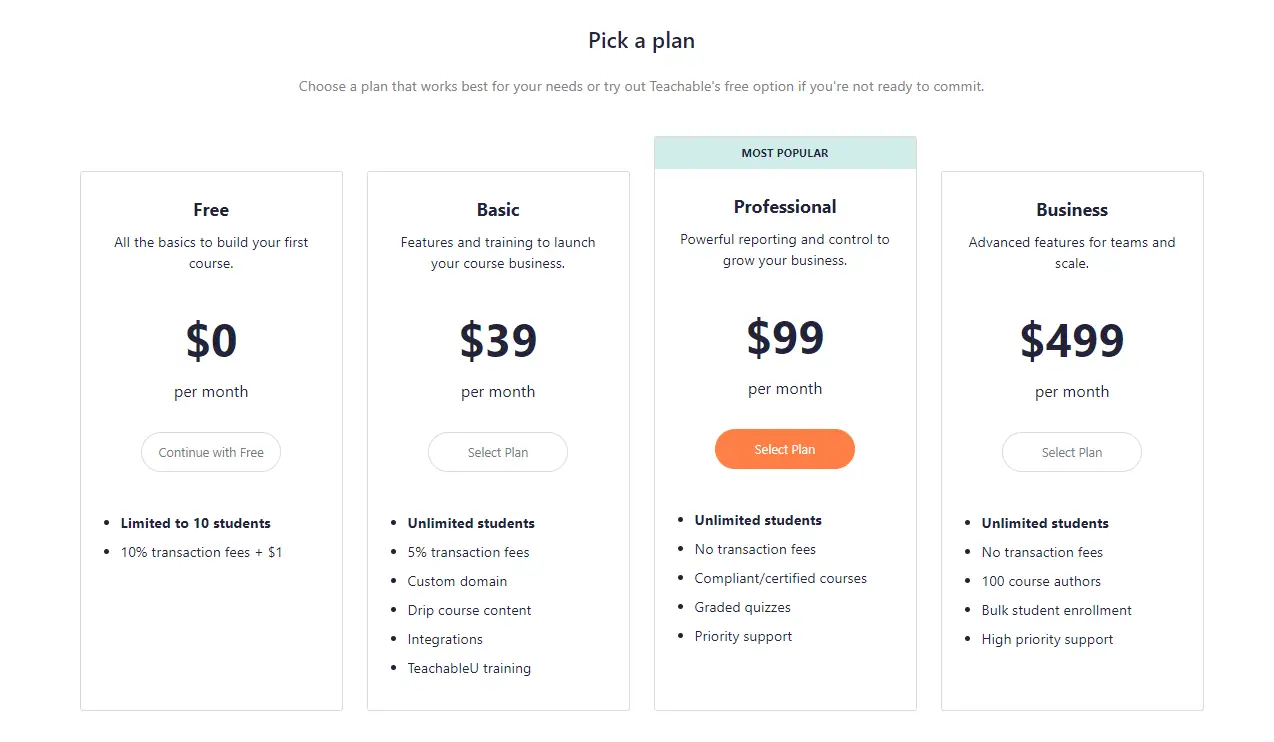 We think one of Teachable's best points is its affordability. In addition, they are not difficult about limits. You can simply add an unlimited number of courses and users. There are no gimmicky limits.
You can start Teachable for $ 29 a month if you pay annually. This offers a lot of certainty, and for that certainty you always pay 5% of the participant contribution to Teachable. Once you see your courses on the line, you can upgrade to Professional for $ 79 per month with annual payment.
Alternatives to Teachable
Maatos.

This is a completely Dutch company.

Kajabi.

This is practically the same as Teachable, but up to four times more expensive.

Teachery.

We think this is too much like a cheap WordPress template.

We think that teachable looks more modern.

Huddle.

Super platform to create a community.

This is only interesting if you can put more than 1,000 members in it, otherwise it looks like a ghost town.

You can also 'just' create an online training in WordPress, for example with Learndash or Lifter LMS.

We found this to be a hassle in the already chaotic WordPress admin environment, while the courses look very 'WordPress-esque' from the front.

Udemy.

Worth considering if you want to create an English language course.

Then you can use the general public of Udemy.

You may then keep a small portion of the course proceeds.
How can you create the online learning environment for your Teachable course?
In the tutorial above you can see how to create an online learning environment with Teachable.
Teachable and Stripe? Yes

!
If you don't change Teachable's standard payment process, your customers can only pay with Paypal or credit card. If you take the professional plan, you can also activate Stripe.
Experiences of others
Many big names use Teachable, including Pat Flynn. The user reviews are very good. You have to be careful of negative reviews on the internet. These are written by the students of Teachable teachers. Somewhere it says 'made with Teachable', so that the dissatisfied students will complain to Teachable, instead of the independent teachers.
Create a Teachable always-free account here
Make a plan for your online training here.
To your success!
Related: also read this...