Love Is (Together) Sayings From Kim Casali [Her Most Beautiful Quotes]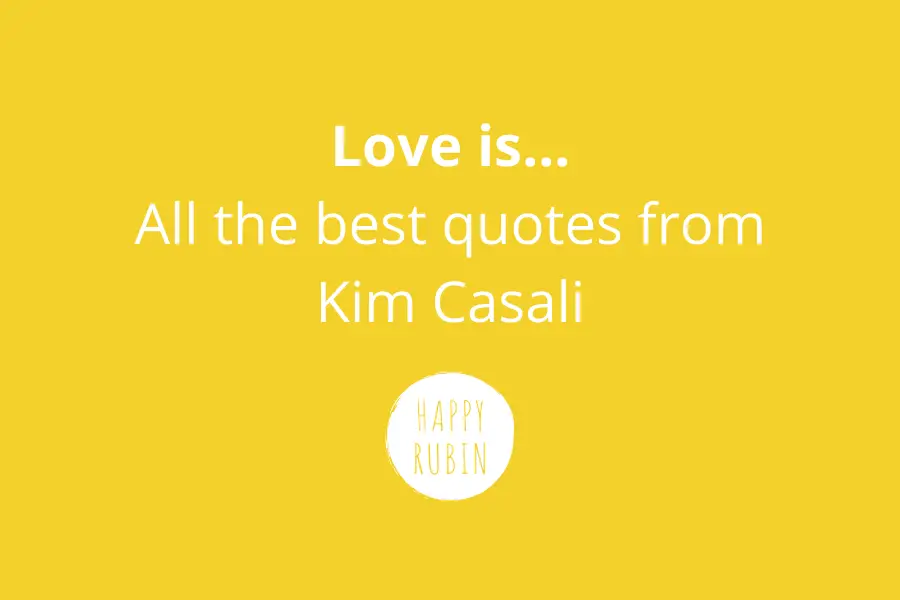 Have you ever seen the 'Love is' spells passing by, and would you like to read more of these quotes? Here you will find the best quotes of 'Love is'. Read along…
What are the 'Love is' sayings?
Kim Casali from New Zealand is the cartoonist who drew the quotes of 'Love Is'. Her quotes and drawings were originally intended for her own husband, after which they were made public in 1970. Now they are known all over the world. After her death in 1997, Bill Asprey is the cartoonist of the sayings to this day.
The Love Is sayings often start with the words 'Love is together …' and are about marriage, falling in love and your relationship. The best-known relationship spells are: "Love is sick together" and "Love is growing old together."
List of 'Love is' spells
Let's look at many more such spells …
Love is complimenting each other

Keep dancing all night

A pleasant evening at home

A kitchen prince

Flying around each other

Leave the other one for a while (and don't wake it up)

Kissing the other violently

Love is always feeling connected

Love is to stay young at heart

Seduce the other

Home sweet home

Someone you can always rely on

Sharing your day cream

Relaxing together (with an ice cold drink)

Not true, but who you are on vacation with

Have fun

Love is kissing your princess awake

Love is a wave of emotion

Embark on an incredible journey together

Cleaning the whole house together

Working together in the garden

Hold on tight

Stubble on the weekend

Always having each other in the face of adversity

A dinner to celebrate

Puzzle together

When a kiss from the other makes you feel like a hotel

Be proud when the other person achieves his / her goals

Shine when the other is near you

Clean up your own mess

Tease

Love is letting him take a nap after dinner

Love is being pampered through and through

Experience family moments together (with each other's family)

The contagious laugh of the other

The photo of the other person on your phone / computer

Lovingly awaited by the other (with flowers, water or another surprise)

Make it a party every day together

Love is cooking his favorite food

Love is marrying your best buddy

Stepping into the life of the other

Love is dreaming about the next vacation together

Love is unconditional

Love is not paying attention to the mess

Allow yourself to be distracted by the other

Love is playing around with the children

Closing armistice during an argument

Listening to the other person's heart

Together on the road to

happiness

Hearing each other's opinion

Going out together

To be of support to the other

Love is fixing you up before he gets home

Love is not worrying about your chic interior

Love is to enchant him

Stealing a kiss

Love has not forgotten her birthday

Love is to adore her

Are we having a boy or a girl?

As long as it is healthy.

Love is like being close to each other

Love is a dinner to celebrate

Don't catch anything on a day fishing and still be happy

Love is not to leave the newspapers lying around

Love is teaching the little one to ride a bicycle

Bear the noise of the other

Love is sleeping in together

Find shelter together

Love is not saying I said it like that

Come home and the table is set

Love is when you make a 'wow' every time

Love is working on fitness together

Allow the other to rest

Love is also doing chores on Sundays

Love is wanting to be alone with him

Tucked in nicely

Love is someone who supports and comforts you

Love is meeting in the same place the same time every day

Don't compare the other with anyone

Always be polite to the other

Being in the present moment with the other

Reading a book together

Trust each other enough to be able to cry together

Show silly behavior together

Talk about opinions, feelings and thoughts

Showing your joy when the other comes home

Encourage each other to take on risks and adventures

Show gratitude to each other

Asking for a hug and kiss

Give a gift to each other for no reason

Learning something new together

Dance together

Hiding a treat in lunch

Let the other person make his / her own decisions

Smile and stare at each other every day

Blow air kisses to each other

Saying "I love you" to each other 10 times a day

Sit next to each other instead of opposite each other, for example in restaurants

Always hold hands

Say thank you to each other

Becoming physically strong together

Long hugs
Love is: letting it be as it is. Let go of your thoughts and let everything be as it is.
The official work & images with text of 'Love is'
You can also find some of the images of 'Love Is' via a Google search .